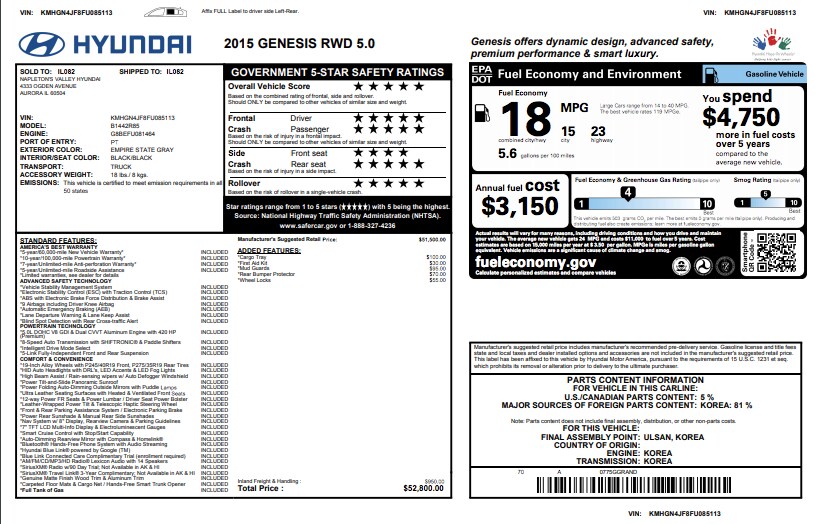 If you've browsed a car lot in the last few decades, you've seen a window sticker: That sheet in the back window with all of the text and numbers. It's easy to just ignore that and ask the salesperson everything about the car, but knowing how to read a new car window sticker can be useful. You can walk the lot, identify cars that have exactly what you want, and then test drive those.
At Taylor Hyundai of Findlay, we encourage all of our customers to be informed when buying a car, so here's what's on the window sticker:
Model Information
That's easy, it'll just be the basics like the model and trim level, say, a Hyundai Elantra Limited. That will also include some of the basic mechanical information, like the engine type, transmission (manual or automatic), and interior and exterior color.
Standard Features
Usually under the model info you'll find the standard features. You probably won't know off the top of your head what's all included at the Limited trim level for an Elantra, but here you'll find things like interior equipment (think AC, stereo, navigation), exterior equipment (wheel size, sunroof), safety features (backup camera, etc), and more.
Warranty
Here's an area that people might skip over, because the print is fine and the information is technical. But every car window sticker includes warranty information, and every Hyundai comes new with the best warranty in America: 10 years, 100,000 miles.
Optional Equipment
Many cars come with optional equipment, or upgrades that don't come standard with the trim. Sometimes those are things like roof racks or exterior aesthetic packages.
Price Information and Final Cost
Here you'll find the total cost of the car, with base price, additional options, and additional taxes all add up to tell you what the vehicle actually costs.
Safety Ratings
Car stickers will often feature safety ratings prominently, telling you how that vehicle fared in various NHTSA and IIHS collision tests, and whether or not that model earned a Top Safety Pick or Top Safety Pick Plus designation from the IIHS.
Fuel Economy
Another important piece of info for would-be car-buyers is how much fuel it consumes, so the official EPA/DOT estimate of highway, city, and combined fuel economy will often be listed in large print near the top of the sticker.
Shop Smart at Taylor Hyundai of Findlay
It's good to learn all you can about your potential vehicle purchase, so you can get a vehicle that perfectly fits your Upper Sandusky area lifestyle with no surprises. Come check out some window stickers in our great Hyundai inventory, and when you see a few that speak to you, we'll be glad to get you behind the wheel for a test drive. If you have any questions about our dealership or the models on our lot, don't hesitate to contact us with them!